Begin Your Recovery Today
Located in Broward county and also known as the "Diamond of the Gold Coast," Hollywood, Florida is home to some 150,000 residents. Nestled right below Fort Lauderdale, Hollywood is only a short drive to popular tourist destinations such as Miami, in addition to Pompano Beach. 
Thus, it is no surprise that so many call this gorgeous city their home. Unfortunately, like many other Florida cities, Hollywood is no stranger to addiction, which is why The Retreat of Broward is here to help. We offer services to those who need alcohol and drug detox near Hollywood, Florida together with the surrounding areas like Oakland Park and Margate.
Why Should I Go to Drug and Alcohol Detox Near Hollywood, FL?
Hollywood offers a plethora of sober activities that our patients can enjoy with the friends they make while in treatment. Moreover, The Retreat of Broward even offers group outings, which allow our patients to feel empowered to explore their surroundings and appreciate their lives on a deeper, and more meaningful level.
Additionally, Hollywood is the perfect place for individuals to begin their road to recovery. Our Hollywood, Florida detox center is here to help no matter what substance a person is addicted to. We offer effective and safe detoxification services so patients can attain sobriety and reach their goals. 
Some highlights of Hollywood, Florida include:
The Intercostal Waterway, which runs parallel to the Atlantic Ocean, provides tourists, as well as locals with one-of-a-kind nature and observation opportunities.
The ArtsPark at Young Circle, which was dedicated in 2007, offers residents and visitors a wide array of visual, together with performing arts-themed activities.
Young Circle, which is an area surrounded by shops and restaurants. The "Food Truck Takeover" occurs every Monday, where dozens of local food trucks offer visitors a variety of cuisines.
Hollywood beach boasts a boardwalk that extends nearly three miles along the Atlantic Ocean. Hotels and restaurants line the boardwalk, along with a theater, bike rental shops, and a farmer's market.
For those seeking water-based adventure, many jet-ski and boat rental companies are on offer near the Hollywood area.
Florida Addiction Statistics
Though the sunshine state has many charms, Florida has been heavily affected by the devastating effects of substance use. Unfortunately, untimely death, crime, and unemployment have become all too common. Additionally, the ongoing opioid problem, coupled with drug and alcohol addiction, has risen amongst Floridians.
Furthermore, according to the CDC, in 2020, Florida had the second highest rate of overdose deaths in the entire nation. Moreover, Substance Use Trend Alert notes almost half of those who reside in the state struggle with alcohol dependency. Consequently, Florida has seen an increase in alcohol-related hospitalizations. In 2020, almost 8,000 state residents died from a drug overdose.
Additionally, an estimate also reveals that over a million Florida residents use illegal drugs in a given year. To avoid potential tragedy, it is essential that detox centers such as The Retreat of Broward be available, in order to help those struggling with addiction begin their road to recovery. 
Benefits of Detox Near Hollywood, FL
Most importantly, all of those struggling with addiction must know they do not have to go through the process alone. In order to avoid potential tragedy, as well as promote healthy habits, it is essential detox centers such as The Retreat of Broward be available. Choosing a safe and effective treatment center for detox is a great way to begin the road to recovery.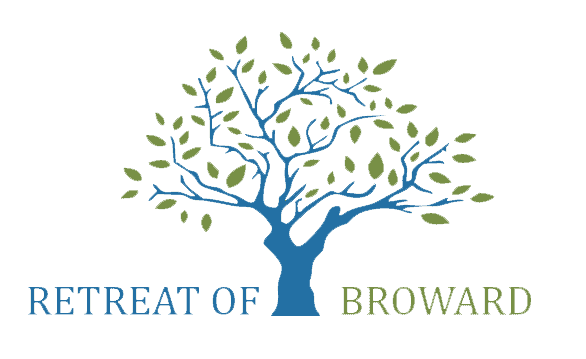 Reach Out Today and Speak with an Addiction Medical Professional
Services Offered at Retreat of Broward
At The Retreat of Broward, we know how difficult it can be to overcome an alcohol or drug addiction. This is why we pride ourselves on offering both effective, as well as safe detoxification procedures to fit the patient's needs. Overall, we offer services which set the foundation for sobriety and long-term recovery. 
Additionally, a benefit of spending time at our detox near Hollywood, Florida is the opportunity to recover in nurturing and supportive environment. Also, by removing individuals from negative influences, they are able to focus on attaining their goals. Furthermore, our facility offers 24/7 supervision and structure to those under our care. 
Hence, given the risky nature of detox, our team monitors patients constantly. This ensures they remain stable and as comfortable as possible. In addition, we administer certain medications to patients designed to alleviate withdrawal symptoms and drug cravings.
The following are examples of the types of detox we offer at The Retreat of Broward:
Alcohol

Cocaine

Heroin

Meth

Opioid

Prescription drugs
Additional Services
Our main goal is for patients to heal. We want them to grow, and recover while at our treatment center. Because of this, we offer an extensive list of detox services.  
These services include:
Daily medical visits
Medication-assisted treatment (MAT)
24/7 nursing care and supervision
Therapy in individual, family and group sessions
Residential group outings
AA/NA meetings
Comprehensive case management services
The comfort of our patients is equally important to us. Because of this, while detoxing at our inpatient facility, individuals are able to choose from a plethora of high-end amenities. These amenities include:
Private rooms
Flat-screen TVs equipped with streaming services
Comfortable mattresses and soft bedding
Gaming consoles
Three catered meals per day
Fully stocked snack room
Housekeeping services
The Retreat of Broward Detox Near Hollywood, FL
If someone is looking for a supportive environment to undergo detox around Hollywood, Florida, The Retreat of Broward is here to help. At our treatment center, our compassionate team of medical professionals and addiction specialists are dedicated to their overall health and well-being. We offer insurance like Aetna, and work with Beacon Health and Tufts Health plans. Contact them to learn about coverage.
For more information about safe, and effective detox, as well as our supportive recovery programs, visit our admissions page today.