Begin Your Recovery Today
Boasting some of the nation's most pristine shorelines, Pompano Beach radiates warmth and serenity. Located in South Florida, this coastal town offers a well-balanced mixture of relaxation and fun for everyone. Pompano Beach's peaceful atmosphere makes it a great vacation spot.
Additionally, it is the perfect place for individuals to begin their recovery journey. For example, we offer services like cognitive-behavioral therapy to assist in the detox experience. No matter what substance a person is addicted to, residents of Pompano Beach can seek help from our detox center. Therefore, we offer effective detox services so people can achieve sobriety in a safe way. 
How Addiction Affects Florida
Despite its charms, the sunshine state is heavily affected by the devastating effects of drug and alcohol misuse. Unfortunately, this misuse leaves death, crime, and unemployment in its wake. Moreover, given the ongoing opioid epidemic as well as the Coronavirus pandemic, drug and alcohol addiction has only become worse .
In fact, as of 2020, Florida has the 2nd highest rate of overdose deaths in the entire nation. Furthermore, almost half of those who reside in the state struggle with alcohol dependency. As a result, Florida has seen an increase in alcohol-related accidents and hospitalizations. In 2020, almost 8,000 of the state's individuals died as a result of a drug overdose.
Additionally, an estimate also reveals that over a million of those residing in Florida use illegal drugs within a given year. To avoid more tragedy and devastation, it is crucial that detox centers such as The Retreat of Broward be available to help those struggling with addiction achieve sobriety. 
Why Detox Near Pompano Beach, FL?
Positioned directly above Fort Lauderdale, Pompano Beach offers clear water, sandy shores, and warm sunshine. These characteristics make it the ideal place to unwind after attending detox. Thus, individuals are given the opportunity to step away from the stresses of life and focus on what really matters—recovery.
Additionally, Pompano Beach offers sober activities that individuals can enjoy with friends made in treatment. The Retreat of Broward even offers group outings. Hence, clients can explore the city around them.
Some highlights of the area include: 
Butterfly World.

The perfect place to connect with nature, Butterfly World is the largest butterfly park in the world. Not only does the park boast butterfly interactions, but it also offers lush scenery and beautiful waterfall features. 

Pompano Beach Amphitheater.

Hosting a wide range of concerts, this open-aired venue is a must for music lovers. 

Pompano Beach Pier.

One of the best fishing spots on the Atlantic coastline, this pier makes for a relaxing and scenic afternoon. 

Watersports.

For those seeking adventure, there are many jet-ski and boat rental companies in the area. Also, parasailing is a popular activity in Pompano Beach. 

Bailey Contemporary Arts Center.

The beach is not for everyone, and that is okay. Home to dozens of art studios, those seeking culture should visit the Bailey Contemporary Arts Center. 
Detox Programs Offered Near Pompano Beach, FL
We offer individualized treatment plans as we understand that every client has unique needs and circumstances. Furthermore, different substances are associated with varying withdrawal symptoms and timelines. Because of this, we offer specialized programs to help those detoxing from the following substances.
Alcohol Detox
Alcohol detox poses some of the most dangerous, even fatal, withdrawal symptoms. These symptoms set in as early as 6 hours after a person's last drink. With side effects that range from upset stomach and sweats to hallucinations and seizures, it is essential that individuals detox from alcohol at a qualified facility. 
Cocaine Detox
This illegal stimulant is associated with unpleasant withdrawal symptoms and severe cravings. Symptoms usually begin within 24 to 72 hours of an individual's last dose and can last for over a week. Fortunately, those detoxing at The Retreat of Broward usually spend 7 to 14 days in our cocaine detox program. 
Heroin Detox 
A highly addictive drug, heroin is potent and dangerous. Moreover, since it is considered a short-acting opioid, withdrawal symptoms start as soon as 6 hours following an individual's last dose. Throughout heroin detox, we administer medications such as methadone in order to ease cravings and relieve withdrawal symptoms. 
Meth Detox
Known to be particularly painful, meth withdrawal symptoms typically surface within 48 hours and can continue for weeks. Therefore, those detoxing from meth alone or at home are likely to relapse due to the severity and duration of withdrawals. 
Opioid Detox 
Ranging from morphine to fentanyl, it is no secret that the entire nation is facing an opioid epidemic. Because of this, it is crucial that opioid detox programs be available. Those misusing opioids often feel the full effects of withdrawal within 24 hours of their last dose. The intensity of their withdrawal symptoms is based on the amount they are using and the frequency of use. 
Prescription Drug Detox
Along with other prescription drugs, we offer detox for those addicted to stimulants such as Adderall, painkillers, and CNS depressants such as benzodiazepines and barbiturates. It is important to note that the duration and intensity of withdrawals depend on the specific substance.
Benefits of Detox Near Pompano Beach
There are many of benefits with detoxing at The Retreat of Broward. Overall, we believe the most rewarding of these to be setting the foundation for long-term recovery and lasting sobriety. An additional benefit of spending time at our detox center near Pompano Beach is the opportunity to heal in a secure and nurturing environment. By removing individuals from outside triggers and influences, they are able to focus solely on achieving their recovery goals. 
Furthermore, our facility offers 24/7 supervision and structure to those under our care. Hence, given the dangerous nature of detox, our team monitors patients consistently, ensuring that they remain stable and as comfortable as possible. Additionally, we administer certain medications to clients that help control drug cravings as well as reduce the impact of withdrawal symptoms.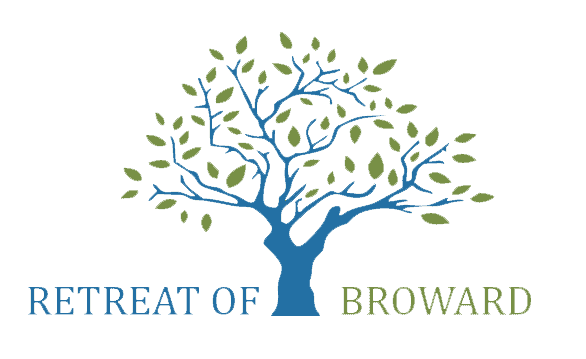 Reach Out Today and Speak with an Addiction Medical Professional
Services We Provide
Our ultimate goal is for clients to heal and grow while at our detox center. To achieve this, we offer an extensive suite of detox services. In order to set them up for a successful recovery, each of our client's personalized treatment plans include the following services:
Daily medical visits

Medically-assisted treatment (MAT)

24/7 nursing care and supervision

Therapy in individual, family and group sessions

Residential group outings

AA/NA Meetings

Comprehensive case management services
The comfort of our clients is also important to us. While detoxing at our inpatient facility, individuals are provided with a variety of high-end amenities. These include:
Private rooms

Compassionate and qualified staff members

Flat-screen TVs equipped with streaming services

Comfortable mattresses and soft bedding

Gaming consoles

Three catered meals per day

Fully stocked snack room

Housekeeping services
Find Detox Near Pompano Beach, FL
Staying sober starts with getting sober. It is time to take the initial step in cultivating a better, brighter tomorrow. Your body needs time to reset from drugs, and it is important that you do so in a safe and secure environment, such as the one we offer near Pompano Beach, Coral Springs, Oakland Park, Margate and Hollywood, Florida. At Retreat of Broward, our compassionate team of addiction specialists will be with you through every step of the detox process.
To start on the road to recovery today, please give us a call or visit our contact form.