Begin Your Recovery Today
Dealing with addiction is not easy to endure. In fact, hard substances in our bodies only damage our daily functionality. Despite the consequences of drugs and alcohol, many people become addicted to these substances every day. Fortunately, we can help.
While we are not based in Coral Springs, we happily service people who live there. If someone or a loved one of theirs is suffering from symptoms of drug or alcohol addiction, start the detox process near Coral Springs today.
What is Detox?
Detox is the first process someone with addiction goes through. It is when someone stops taking drugs or alcohol and rids their body of substances. The process will allow for the substances to leave the body. However, detoxing is very difficult, so it is recommended not to do it alone. During Coral Springs detox, our team will be there to provide 24/7 supervision and stability. 
When someone stops abusing the substances they used to take regularly, their body will begin to develop withdrawal symptoms. This is because the body and brain think it's normal to be taking these substances. However, the body is not built to intake these substances, especially in high dosages. Additionally, they will have greater cravings for drugs and alcohol to ease these sudden feelings of withdrawal. 
When this happens, it is best to have a team of medical professionals there to help someone decrease the risk of relapse. Withdrawal symptoms can be so great that they can become lethal to most when doing it alone. Everyone's condition is different, and we know that there is a peak of symptoms while going through withdrawal for almost all levels of addiction. 
Detox lasts for around seven to ten days, but some people might need it for two weeks or longer. Withdrawal symptoms can still linger, but begin to decrease with ongoing treatment. Our team can help patients be comfortable and stable during this process.
Programs Offered Near Coral Springs
Drugs and alcohol both have different symptoms of withdrawal. Hence, we offer individualized programs based on what type of addiction they experience. Someone going through alcohol detox may have different needs compared to someone going through drug detox. Learning about the different programs will help someone or a loved one understand what kind of addiction they currently have and which detox to look into. 
Here are a few of our programs:
Alcohol Detox
Detox begins when the patient stops drinking. Alcohol is the most common substance abuse in Florida and is easy to get addicted to. Binge drinking happens little by little. In fact, patients are often known to start drinking at a young age. If someone is struggling with the effects of alcohol, alcohol detox is a great start to stop drinking. 
Heroin Detox
Heroin is an opioid drug made from morphine. It is often taken through injections, sniffing, or smoking and comes in powder form. Heroin is heavily addictive and takes control of brain functions. Withdrawal symptoms are difficult during heroin detox, so we provide 24/7 supervision and care for those who have a great risk of relapse. 
Fentanyl Detox
Fentanyl is around 50 to 100 times more potent than morphine. The dangers lie in how small of dosage is needed to get high. Usually, people do not notice fentanyl in their system as it is often mixed with other drugs. We understand that fentanyl is a very dangerous drug to be addicted to. That's why our team will make sure patients have a comfortable and stable detox process. 
Xanax Detox
Xanax addiction can start out as recreational drug use. Over time, it can get out of hand in dosage and usage due to its effects. It is usually prescribed to treat anxiety and depression as it aims to relax the body and brain. People often misuse Xanax to get that relaxed sensation. However, taking more dosage than needed damages the body quickly. Xanax detox assists patients in recovering from such addiction.
Meth Detox
Meth is usually used to increase wakefulness and physical activity. Despite this, the dosage is very dangerous, making it easy to relapse. Because of the effects, people constantly use the drug. As a result, they build a tolerance, increasing the risk of overdosing. At our meth detox near Coral Springs, we offer professional assistance to decrease any withdrawal symptoms and relapse.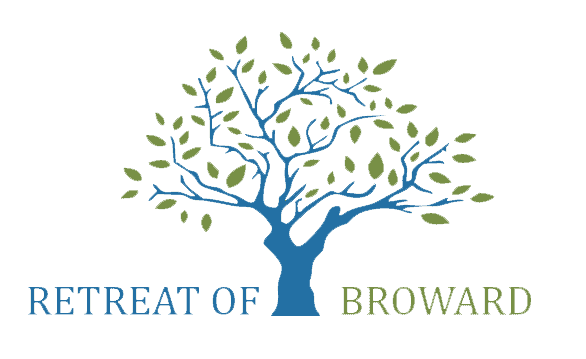 Reach Out Today and Speak with an Addiction Medical Professional
Services for Detox Near Coral Springs
During Coral Springs detox, patients will benefit from the various services we offer at The Retreat of Broward. Each detox program has beneficial therapies and treatments to begin a life of sobriety. We understand addiction affects a person in both a physical and mental sense. In fact, our services take a look into the behavioral and emotional aspects that come with addiction. Every one of our services aims to help our patients in the recovery process. 
A few of our services include: 
Medicated-Assisted Treatment 
If a patient's condition is severe, they may have problems withdrawing from substances. Withdrawal symptoms can be dangerous to the point of being lethal as well, especially during detox. When this happens, the person will go through medicated-assisted treatment (MAT). Here, they will receive medications, relieving the symptoms of withdrawal.
Cognitive-Behavioral Therapy
Cognitive-behavioral therapy (CBT) is a kind of psychotherapy (talk therapy). CBT allows patients discover ways to navigate through negative thought patterns in a more effective manner. With our licensed therapists, we will assist someone in finding healthier ways to cope. They can also learn new skills to develop positive behaviors and thoughts. 
Family Counseling
Addiction not only affects the individual but also their family. Family counseling aims to help patients build and maintain their family relationships. Therapists will help start discussions that need to be had between family members and try to resolve any conflicts that might have developed because of addiction. 
Individual Therapy
Individual therapy is the most common form of therapy. Patients will have one-on-one sessions to discuss emotions or behaviors that tend to affect their daily lives. Therapists will also talk with patients about ways to cope with addiction and how to maintain sobriety. Individual therapy will allow someone to open up with no judgment. 
Group Therapy
Group therapy aims for peers to share their emotions and thoughts on their experiences. This type of therapy is led by a trained therapist in a private room within a small group setting. It allows individuals to develop relationships with those who have had similar experiences. Group therapy is a great way to open up in order to help others connect and relate. 
Benefits of Coral Springs Detox
Unfortunately, Florida faces substance abuse to a great extent. The Florida Department of Children and Families stated in 2022, there have already been around 2,000 fatal deaths due to overdoses in the state. Despite the unfortunate statistics, getting detox can help those in need of a way out. 
Detoxing only helps to improve someone's life for the better. When someone wants to start their recovery and begin to live a life of sobriety, detox is a great way to start. While detox has risks with withdrawal symptoms, there are many benefits  to detox near Coral Springs. What we provide makes the program comfortable and worth experiencing. 
Some benefits of Coral Springs detox include: 
Constant medical supervision 

A comfortable and stable environment

Decreasing the risk of relapse

Improving one's quality of life

Promoting healthy changes

Improving clearer thinking and brain functionality

Removing toxic substances from the body 

Bettering one's physical and mental health
It is vital for those struggling with addiction to get treatment as soon as possible. The detoxification process is difficult. However, going through this process only improves someone's mental and physical health by helping stop the damaging cycle of addiction. Patients are not alone in this journey. We will be there to support them every step of the way. It is never too late for someone to start recovery and better their life here at The Retreat of Broward. 
Begin Detox Near Coral Springs, FL Today
Too many people have lost their lives to drugs or alcohol—however, you do not have to be a part of the statistics. Beginning your recovery process starts with our Coral Springs detox. While we are not based in Coral Springs, we are happy to service people from there and surrounding areas. During detox, you will fully rid your body of any drugs or alcohol taking control of your life, gaining back your freedom and health after our Coral Springs detox. You owe it to yourself to live a drug-free life.
Contact us or visit our admissions page to learn more about how we can help.