Group therapy in Florida facilitates peer bonding and encourages open communication in a safe environment. Those struggling with substance use disorder (SUD) can widely benefit from group therapy, thus setting the stage for manageable sobriety. 
This type of therapy reduces the unfair stigma associated with addiction. At The Retreat of Broward, however, we emphasize the importance of group therapy in Florida and encourage our detox patients to openly participate in sessions. 
What is Group Therapy?  
Led by a trained therapist, group therapy consists of multiple patients and is held in a private room. During sessions, group members share their experiences with addiction, speaking freely about the struggles and emotions associated with this disease. Within this secure environment, individuals are not judged for their pasts. Instead, they feel supported and empowered as the rest of the group discusses similar experiences, provides insight, and offers constructive opinions.
Additionally, the therapist helps individuals to problem solve during sessions, thus improving important coping skills. Overall, the goal of group therapy in Florida is to facilitate open communication, encourage empathy, reduce feelings of isolation, and promote peer bonding.
Types of Group Therapy in Florida
There are several types of group therapy available in Florida. These are specialized to meet the needs of various individuals. The type of group therapy best suited for an individual depends on their past and current circumstances as well as their recovery goals. 
These types include:
Motivational Interviewing:

While in this program, individuals undergo motivational interviews. These help them to resolve any past or current issues while providing them with the skills needed to resolve future conflicts.  

Trauma Focus:

 Designed for those struggling with trauma, this type of group therapy allows individuals to move forward from these experiences in a healthy manner. To accomplish this, patients spend sessions discussing their past traumas and how they have affected their current circumstances. 

Expressive Therapy:

 This division of group therapy provides patients with a creative outlet. Specifically, it allows them to express themselves through various forms of art. When they are ready, they share their work with their peers. When done, they discuss the feelings their project symbolizes.

Family Therapy:

  Designed to repair damage and improve communication, family therapy is an essential component of addiction recovery. During sessions, patients and their loved ones work together to improve their relationships. they also learn constructive ways to support one another.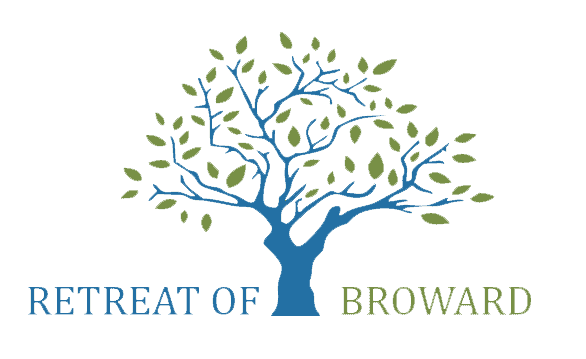 Reach Out Today and Speak with an Addiction Medical Professional
What is Group Therapy in Florida Like? 

The Retreat of Broward wants patients to get the most out of group therapy sessions. We understand treatment can be daunting and want each person who walks through our doors to feel supported. Therefore, it is important to us that our group therapy sessions are held in a nurturing environment and that our team of therapists are highly educated and empathetic.  
We want our patients to feel a sense of hope during sessions as this helps them remain open to sharing and overall committed to the process. Patients are meant to learn more about themselves and their emotions as they receive feedback. Self-discovery can also occur when they hear observations from other group members. 
As a result, they become more comfortable offering feedback, thus creating a constructive loop. This improves social skills as well as encourages group members to make lasting bonds with one another. The connections made during group therapy in Florida often extend outside of sessions, therefore facilitating friendships and support networks.
Do I Need Group Therapy?
Group therapy is helpful for virtually all addiction treatment patients. It can be especially constructive for those who have difficulty opening up about their substance misuse problem. Also, it helps people who struggle to adequately communicate and socialize improve their interpersonal skills. Not only is group therapy beneficial to those addicted to drugs and/or alcohol, but it is helpful to individuals facing other issues. 
Examples of these conditions include: 
PTSD

Anxiety

Bipolar

Depression

ADHD

Dual diagnosis

Grief

Emotional or physical abuse

Divorce
Benefits of Attending Group Therapy in Florida   

There are a multitude of benefits associated with The Retreat of Broward's group therapy program. Those in our detox programs can expect to reap the following rewards from attending group therapy in Florida:
Improving Self-Awareness:

Individuals learn more about themselves as they share and explain their actions and feelings. They can grow by hearing unbiased feedback and insights.

Developing Support Networks:

 Group therapy creates a constructive atmosphere where individuals solve problems and celebrate victories together. This sense of support is crucial to achieving long-term success in recovery.

Reducing Stigma:

 When individuals learn they are not alone, they feel less shame and more acceptance. This builds their confidence in recovery as they realize many with similar struggles can find a life of sobriety. 

Eliminating Feelings of Isolation:

 Addiction often leads people away from family and friends. Therefore, their communication and social skills begin to suffer. Group therapy helps them improve these skills and become more comfortable with their peers. 

Improving Motivation:

 When individuals see others succeeding in recovery, it motivates them to do the same—thus creating a constructive cycle. 
Begin Group Therapy in Florida   
It is time to regain control of your life. The Retreat of Broward offers comprehensive drug and alcohol detox, as well as group therapy in Florida. While in our programming, individuals are encouraged to attend group therapy sessions. This gives them the best chance of getting clean and staying clean long after treatment has ended. As well, we accept insurance like Anthem Blue Cross and Blue Shield, and Aetna to help cover costs.
To learn more about how group therapy in Florida can help or to start working towards sobriety today, give us a call or visit our admissions page. and